CLASSIC FRENCH ONION SOUP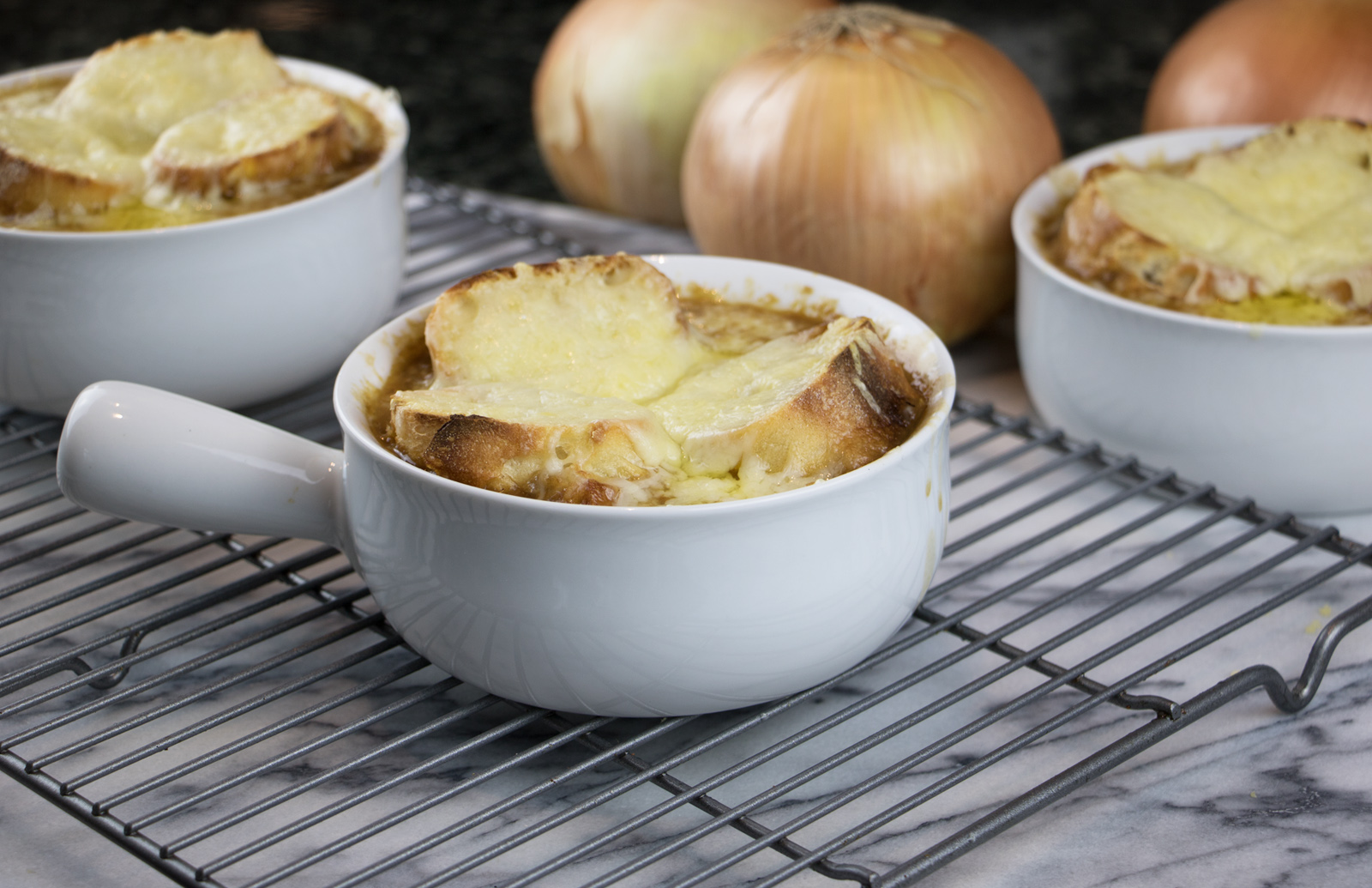 INGREDIENTS
1 Good Life Organic yellow onions 3lbs, peeled and thinly sliced
3 tbsp butter
3 tbsp flour
1/2 cup dry white wine (we used Pinot Grigio)
4 garlic cloves, minced
6 cups of beef stock
2 tsp Worcestershire sauce (optional)
2 bay leaves
4 sprigs of fresh thyme
Sea salt and freshly ground pepper to taste
Baguette, sliced in 1" rounds
Grated cheese (mix of shredded gruyere and asiago)
DIRECTIONS
In a large heavy-bottomed stock-pot, melt butter over medium heat. Add onions and sauté until caramelized and well browned (make sure to keep them from burning), about 30 minutes, stirring every couple minutes. Add garlic and sauté for a minute. Stir in flour and cook for an additional minute. To deglaze the pan, stir in the wine – using a wooden spoon to scrape up any bits from the bottom of the pan.
Add the Worcestershire sauce (optional), beef stock, thyme, and bay leaves. Bring to a simmer, then reduce heat and continue to simmer for at least 10 minutes, keeping your pot partially covered. Season with salt and pepper to taste. Remove the bay leaves and thyme.
While the soup is simmering, preheat the oven to 400°F and slice the baguette into 1-inch slices. Arrange them in a single layer on a baking sheet. Toast for about 6 minutes or so, until the bread is toasted with golden edges. Set aside.
When ready to serve the soup, switch the oven to the broiler setting and place your oven-safe bowls on a thick baking sheet. Ladle the soup into each of them, then top with a baguette slice and your chosen cheese (we used about 1/4 cup of shredded cheese for each). Place baking sheet in the oven, about 5 inches from the broiler. Cook for about 4 minutes, or until the cheese is melted and bubbling. Serve immediately.
Other Recipes You May Enjoy: