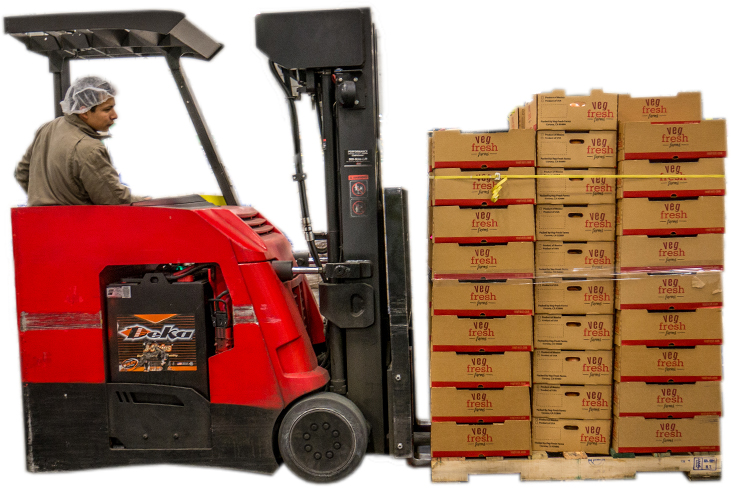 SERVICES
Veg-Fresh Farms has the ability to customize a variety of services to fit your unique needs.
PROVIDING INNOVATIVE CUSTOMIZED SOLUTIONS
Veg Fresh Farms is uniquely equipped to handle your business. We can source almost every fresh produce commodity, whether conventional, organic, or a specialty item. We've got over 150,000 square feet of refrigerated space, 28 different loading bays, and 7 different segregated coolers to accommodate different temperatures and humidity levels. Our facility is also equipped with 8 unique machines to package almost any kind of pack and 6,500 refrigerated pallet positions.
Our facility and sourcing capabilities mean nothing however, without a superior Food Safety program in place to ensure the safety of produce that enters and exits our building. Food Safety is a top priority, and is ingrained in our company culture. Our Food Safety/QA team receives accredited third party training and certification, as well as continuing education courses. Each year we have over 10 Food Safety Audits, from both our customer's internal auditing teams and our external third party auditors, and we consistently score in the highest percentiles. When you trust us to handle your produce, rest assured that the cold chain integrity and proper food safety standards for handling and storage are always being met.
Veg-Fresh Farms' menu of services is designed to strengthen your supply chain by increasing efficiencies, providing customized solutions, and lowering costs. By consolidating at Veg-Fresh Farms you can have the product in the pack you need , reduce down time spent waiting to load at several different locations, and stop worrying about exceeding DOT driving hours.
Quality Control
Product is inspected for:
Temperature
Condition
Grade
Consolidation
Year-round availability of 100s of items
conventional and organic
Product Rework
Sorting of product due to quality concerns
Extras
Temp tale
Air Bags
Paper Wrap
Plastic Pallet Covers
Cross-Dock
Product received
Storage & CoolingPallet in/out
Product Sourcing
QC Inspection
Breakdown
Handling
Labeling
Restacking
Quality Control
Local & Nationwide
Packaging
Numerous packaging capabilities
Pillow Pouch Bags
Net Bags
Overwrap
Flowwrap
Clamshells
SUPPLY CHAIN MANAGEMENT FOR FOOD SERVICE
Veg-Fresh Farms has a proven track in superior customer service, on-time deliveries, and consistent high quality in our fresh produce items. We have built a network of professionals that service 50 distribution centers in 36 states for over a dozen national quick-service concepts across the United States. We have vertically aligned partnerships with our growers, and we source in the US and Mexico, allowing us to offer consistent year-round supply when crops are short or gapping. Veg-Fresh Farms color sorts every tomato case to your specifications, providing stores with consistent color and sizing. Long term relationships with regional partners allows us to ship product out of produce facilities that are closer to the end user for a fresher product and on-time delivery.