Shipping and Receiving Hours and Traffic Patterns
---
1. Schedule an Appointment
951-256-9927
All truck deliveries and pick-ups can be scheduled by calling our Customer Service Department at 951-256-9927 or you may request an appointment by email: drivercheckin@vegfresh.com
Deliveries may also be scheduled on the web: www.retalixtraffic.com (instructions below)

2. PLEASE BE PREPARED TO PROVIDE THE FOLLOWING INFORMATION
Customer Name (or who is Veg-Fresh Cross Docking for?)
PO #: customer PO # will be used for the appointment
Vendor/Shipper Name: vendor of record/seller of product
Carrier Name: carrier hired to transport product
Date of Delivery: request a date for delivery
Pallet Quantity: provide a pallet quantity to be delivered
Email Address for Confirmation: provide all emails to receive confirmation
Appointments can be made up to 24 hours prior to scheduled arrival and changed up to 2 hours prior to appointment time. Upon completion you will be provided a confirmation number.
ALL CARRIERS MUST ARRIVE WITH THEIR CONFIRMATION NUMBER TO VEG-FRESH FARMS.
Failure to make an appointment will result in a $150 fee to be paid by the driver upon arrival. Trucks arriving more than one hour past appointment time will incur a fee of $100 paid by the driver upon arrival.
3. IMPORTANT INFORMATION REGARDING TRUCK ENTRANCE
Our facility is located at: 1400 W Rincon St. Corona, CA 92880
Enter the site from the East making a left turn onto Alcoa Street
Exit the site by turning left (West) onto Rincon Street
If there is a hold-up on the street, please stay in your cab
Traffic rules are well marked. Please follow posted signage.
The nearest truck parking is 4265 East Guasti Rd, Ontario, CA
There is NO parking on Alcoa or Rincon Street.
IF YOU PARK ON THESE STREETS, YOU WILL GET A TICKET!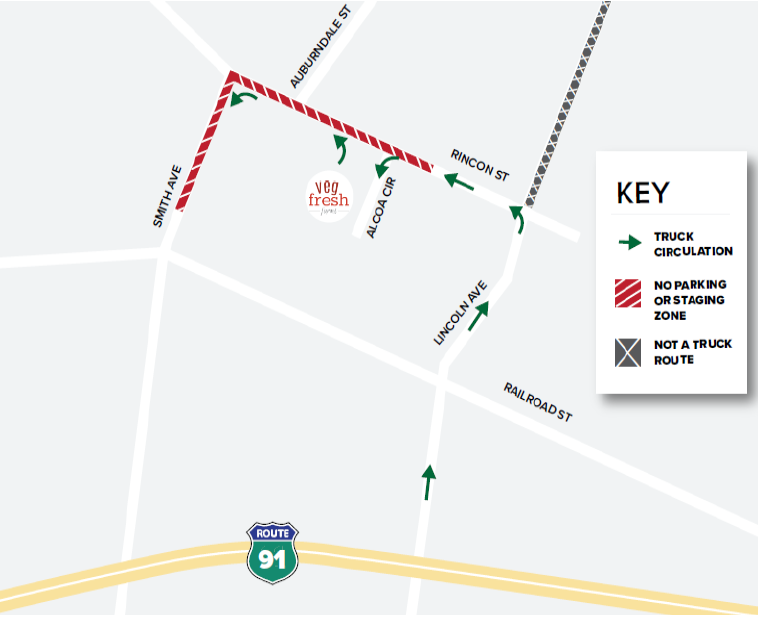 Schedule Your Appointment Online via Retalix
All deliveries can be scheduled by using the www.retalixtraffic.com website.
If you already utilize Retalix, you will just need to request access to our location
If you are NOT already using Retalix, you will need to "Register" as directed on their site
Each user from your scheduling department will need to register their own user information
Once you have completed the registration, we will recieve your information. We will verify and approve your carrier.
Once you have been approved: